[Article links updated. Originally published on Feb 19, 2020]
Innovative technology solutions have emerged in a number of fields, boosting employee productivity and enhancing the customer experience. In the past 10-plus years of experiential marketing, technology's influence on customer engagement has evolved almost beyond recognition.
Technology now allows customers to experience and evaluate brands on their own terms. That's why experiential marketing is important for building relationships with your audience.
Standard displays and pen-to-paper processes used to be the norm, but customers can now complete processes and interact with brands through mobile and virtual setups.
In a 2019 Bizzabo study, 90% of event marketers believe that technology can have a major positive impact on the success of their events. Even though the enhanced interactivity of these features can boost the customer experience, it can be overwhelming for event marketers to decide which tech will make the biggest impact.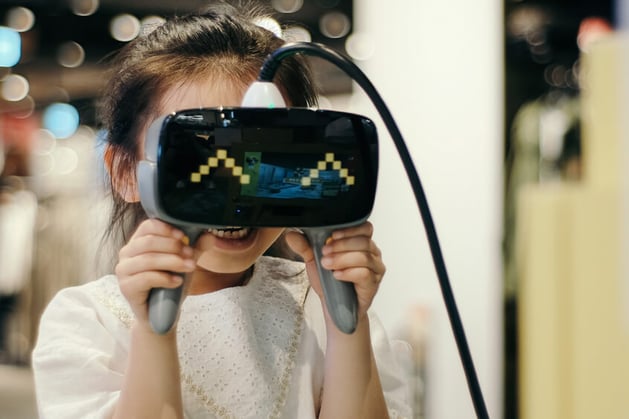 Technology-Enabled Engagement Trends
With more customer engagement opportunities emerging every day, event marketers and experiential decision makers must continue to observe and invest in the technical solutions that will engage event attendees. By using technology, you can unlock the greater benefits of experiential marketing. Here are the three most engaging technological innovations to keep your eye on:
1. Augmented reality

One of the main benefits of experiential marketing is right in its name: experience. Brands can captivate their audiences with a stimulating display or product interaction using augmented reality, or AR. AR layers visuals on top of real-world experiences to introduce event attendees to a new kind of brand interaction.
Organizers of the 2018 College Football Playoff
used AR in an outside-the-box strategy
to engage attendees. Smartphone users could log onto the event's app and scan brand logos placed throughout Mercedes-Benz Stadium to uncover exclusive AR content and interactive experiences from select sponsors.
What's exciting about AR is that it builds on the physical world and makes it feel otherworldly. Attendees aren't likely to forget that wow factor. Incorporate AR into your experiential marketing to give the experience an aspirational, unique feel.
2. Next-level photo opps

Pictures tell the story of an experience, and event attendees get huge value out of a social media-worthy photo shoot. In today's experiential landscape, you can build these enhanced photo opps on a limited budget while delivering incredible returns.
For example, one of our clients wanted to commemorate a milestone at its booth during a trade show — but the brand wanted to stick to a tight budget. We outfitted the booth with a green screen and uploaded a customized background with imagery from the company's marketing material. Guests who took photos with the background loved the concept, showing it was an effective engagement tool at a low cost.
3. Social platforms

At its core, social media is a connecting technology that unites people, places, and things at a moment's notice. Experiential marketers can leverage social media to amplify in-person customer interactions and increase the timeline of customer engagements to long after the event ends.
To combat the winter doldrums and create buzz for its new direct flight from New York City to Palm Springs, California, JetBlue worked with the Greater Palm Springs Convention and Visitors Bureau to create a two-pronged experiential campaign. The first portion included
setting up giant ice blocks in Manhattan
. Anyone who walked by was able to chip away at the ice in an attempt to claim prizes — including trips to the warmer weather.

The second part of the strategy? JetBlue launched a social media contest to draw attention to the display while encouraging social engagement from customers who didn't live close enough to participate. JetBlue capitalized on seasonal trends and an engaged audience to build an experience that effectively resonated with customers. When building a campaign, that's a win-win.

Attendee engagement can determine the failure or success of your events — and it's the biggest benefit of experiential marketing. Leverage the best technology trends in experiential marketing to cultivate an enthusiastic audience and build brand buzz.